A question that I get asked pretty frequently is this: A smile makeover is expensive, is it worth it?
It is true, a smile makeover is a major investment in yourself and your self-confidence. I hope that everybody thinks seriously about major investments like this.
I'll tell you this about smile makeovers: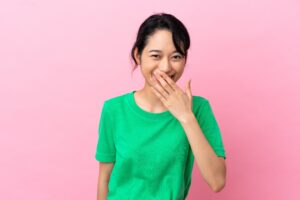 it is awesome to see people's smiles change through a smile makeover procedure. At the first visit, when I ask them to smile, they usually do a half smile or smile in a way that doesn't fully show their teeth. Sometimes they smile without showing any teeth. My favorite part of the entire process is seeing how big and natural they smile after they get their new smile. They look so confident. It is like their real personality can come out and not be hidden anymore.
Here are some benefits of a smile makeover that I've seen first hand:
Increased self-confidence: A smile makeover can give you the confidence to smile more often and in public. This can lead to increased social interactions and improved relationships. 
Improved job prospects: A confident smile can make you appear more approachable and likable, which can give you an edge in job interviews.
Increased earning potential: A study by the American Psychological Association found that people with attractive smiles earn an average of $10,000 more per year than those with less attractive smiles.
Like most major purchases in life, there are financing options available. We will do everything we can to help you make your new smile a possibility.
If you're considering a smile makeover, I would love to help. The process starts with a virtual smile design where I can show you a digital representation of what you would look like with a new smile. You get to see it before you make any decisions! You can learn more about that here: Virtual Smile Design
Give us a call today for a free smile consultation so we can talk through the process and see what's possible. Greater confidence is just a phone call away! 480-654-3000
Dr. Kris Heap